We would like to invite all of our friends, family, and clients past, present and future, as well as the local business and Realtor community to Exit Mountain Realty's annual Christmas Party on December 6th from 12 p.m. to 5 p.m. at 515 North Broad Street in Brevard, North Carolina. You will enjoy Theresa's famous "Chicken Tortilla Soup", an array of finger foods and of course cookies for Santa! We have been blessed with another wonderful year and would like to share our gratitude with our friends from all of the communities in our area.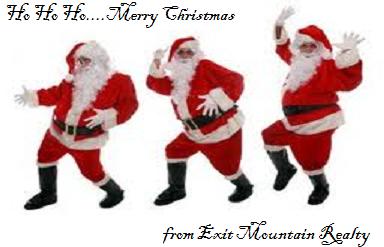 Downtown Brevard is located at the foothills of the Blue Ridge Mountains at the crossroads between Pisgah National Forest, DuPont State Forest, and The Gorges State Park and has a view of Bracken Mountain Nature Reserve all offering a smorgasbord of outdoor activities such as world-renowned fly fishing, kayaking, biking, hiking, and climbing. Brevard is also home to the world-renowned Brevard Music Center, Brevard College, and Transylvania Community Arts Council, bringing very diverse programs, concerts and exhibits to our mountain community.

Brevard's hometown feeling is captured by four annual street festivals: White Squirrel Festival, the famous Fourth of July Festival, Halloween Fest, and the Twilight Tour. These include special events such as the Annual Squirrel Box Derby, antique auto show, Old Time Music Competition, and Main Street Alive. The city is nicknamed "The Land of the Waterfalls" due to the many waterfalls in the area, including Looking Glass, Connestee Falls, and Sliding Rock.

Brevard is located less than 30 miles from Asheville, 20 miles from Hendersonville, and less than 3 hours from major metropolitan areas of Charlotte, NC; Knoxville, TN; Atlanta, GA. Also we are located just a stone's throw from many of the area's best attractions such as the Biltmore Estate, Chimney Rock and Grandfather Mountain and very convenient connection to the Blue Ridge Parkway.

Brevard NC Real Estate - Listing Solutions by Jason Jacques
Looking for a new home in Brevard? Are you planning to sell your home in Transylvania County? My name is Jason Jacques and I am the Broker-Owner of Exit Mountain Realty and my team offers the best marketing solutions in town. Our agents are knowledgeable, experienced, and committed to producing results for you. (828) 553-0193 or (828) 348-8056.
Web Link: 2012 Exit Mountain Realty Annual Christmas Party
Exit Mountain Realty Link: 2012 Exit Mountain Realty Annual Christmas Party
Realtown Blog: 2012 Exit Mountain Realty Annual Christmas Party
Wordpress: 2012 Exit Mountain Realty Annual Christmas Party
ExitMD Blog: 2012 Exit Mountain Realty Annual Christmas Party
HUBREC Blog: 2012 Exit Mountain Realty Annual Christmas Party
Exit MidSouth Blog: 2012 Exit Mountain Realty Annual Christmas Party
Exit Carolinas Blog: 2012 Exit Mountain Realty Annual Christmas Party
Agreatertown Blog: 2012 Exit Mountain Realty Annual Christmas Party