West Main Barbershop a landmark in downtown Brevard relocates from West Main Street to West Main Street!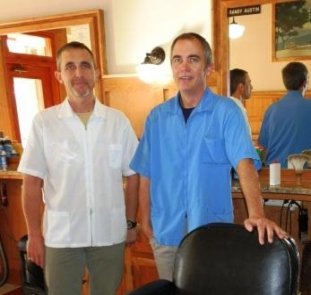 Randy and Ricky Austin, owners of the popular Barbershop located downtown Brevard have been in the hair cutting business for more than 50 years have decided to buy a building rather than rent, and when a storefront two doors farther west on Main Street was listed for sale, they wasted no time in taking action.
"There was a lot of construction needed, including relocating one outside wall and replacing the roof, plumbing and flooring," Ricky explains. "But it all came together well, and we were able to use local contractors for almost all the work."
The new facility at 70 West Main has three barber chairs and seating to handle the continuation of customers who have patronized the shop for many years. A new electric barber pole graces the exterior and serves to verify that the shop is open.
The barbershop is a landmark in Brevard and has a fascinating history. Established in 1957 by Mitch Crawford and Junior Sims, it was housed for a short time in a basement on the south side of West Main before being relocated across the street. In 1988, Randy Austin and his father, Jimmy, teamed up with Crawford to form a three-chair operation. Ricky Austin completed his barber training in 1990, and a few years later the Austins bought the business from Crawford. Jimmy Austin retired from barbering in 1994 and the Austin brothers have operated the shop ever since.
An unusual feature is that the barbershop has never had a telephone number. As Ricky puts it, "There hasn't been a phone in the shop for 55 years, and we have no plans to add one in the new building. Operating on a first-come-first served basis without appointments works fine, and when we're cutting hair, we prefer not to be distracted from the task at hand."
The Austin brothers received special recognition last month as the Retail/Service Business of the Year by the Transylvania County Commissioners, the Economic Development Advisory Board and the County Economic Development Department.
Check out the new location! The shop is open from 8:00 AM to 5:30 PM Tuesday through Friday and from 8:00 to 1:00 on Saturday.
Brevard NC Real Estate - Listing Solutions by Jason Jacques
Looking for a new home in Brevard? Are you planning to sell your home in Transylvania County? My name is Jason Jacques and I am the Broker-Owner of Exit Mountain Realty and my team offers the best marketing solutions in town. Our agents are knowledgeable, experienced, and committed to producing results for you. (828) 553-0193 or (828) 348-8056.
Web Link: West Main Street Barbershop Relocates
Exit Mountain Realty Link: West Main Street Barbershop Relocates
Realtown Blog: West Main Street Barbershop Relocates
Wordpress: West Main Street Barbershop Relocates
ExitMD Blog: West Main Street Barbershop Relocates
HUBREC Blog: West Main Street Barbershop Relocates
Exit MidSouth Blog: West Main Street Barbershop Relocates
Exit Carolinas Blog: West Main Street Barbershop Relocates
Agreatertown Blog: West Main Street Barbershop Relocates